A rustic dining table doesn't have to cost more than $100 on your wallet.
In fact, you can easily use a wooden cutting board and hairpin table legs to create a DIY one in less than 10 minutes.
To inspire you to try the weekend DIY, we will show you how easy it is to make your own unique hairpin leg table out of natural wood.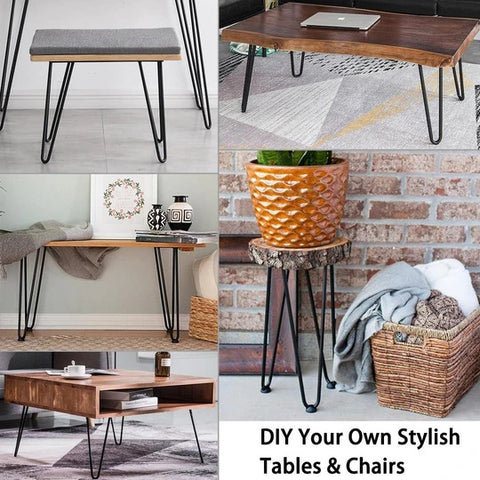 Find the wood that fits your table
The wonder of hairpin legs is that you can use almost any kind of wood to make your own furniture: from wood-based panels to recycled wood to natural panels.
If you have a ready-made high-quality plate at home, you can use it directly. If not, you can try to contact your local sawmill or timber supplier to get one.
That sounds a little troublesome.
If you are using a natural plate, this is the worst part of the job, which requires some careful scrubbing with a wire brush.
We need to remove the preservation and infusion of the edges of the wood, as well as rotten wood.
Eventually we can polish the wood into smooth and clean wood for use.
Wood-based panels and recycled wood usually don't have to do so much preparation.
However, they may also need to cut it to a certain size and do some polishing to make it smooth.
Choose the suitable hairpin legs
Hairpin legs have a variety of shapes and sizes, suitable for all kinds of furniture.
There are three factors to consider when selecting hairpin legs:
Size
The length of the hairpin leg usually depends on the type of table you want to make.
Whether it's a coffee table, modern desk, night stand, stool, media center or bench, Bizzoelife all have suitable products for you to choose from.
Quantity
Usually, two hairpin legs are suitable for most projects.
When the surface is very heavy, the three legs can enhance the strength and are recommended for desks and dining tables.
In this case, we chose three poles and legs because we thought they were commensurate with the aesthetics of wood.
When you place an order on Bizzoelife's website, each package contains four hairpin legs, and you are free to choose the quantity.
Generally speaking, three are commensurate with the aesthetics of wood.
Strength
The strength of the hairpin legs determines the service life of the table.
If you don't want to fix repeatedly in a short period of time, then please choose the strong hairpin legs.
Bizzoelife's hairpin leg can bring you the most reliable experience.
Its material was made of 3/8" cold rolled iron, making a very sturdy console table, so that you won't have any movement in the process of use.
Screw up your hairpin legs
The simplicity of the hairpin leg is fully reflected in this step.
You can get a complete table as long as you tighten them in place.
There is no need to make any measurements, we just need to watch the right position and place the hairpin legs.
Bizzoelife will come with 20 installed screws, you don't need to buy them separately.
When all the above is done, you can enjoy your work. Isn't it easy? If you are free this weekend, you can also give it a try.
As Henry Glass, the original designer of the hairpin leg, said in the 1940s, "do the most with the least money", Bizzoelife provides all customers with 7-9 days free delivery service and the best after-sales service, you only need to pay a little to get a modern aesthetic, practical and stylish table.