The appearance of the gaming desk is no different from that of the normal desk, but the price is very different, so many people can't help but ask the question on the title, is the gaming desk worth buying?
In fact, when you ask this question, it has exposed the fact that you are a novice. After all, senior e-sports players are well aware of the benefits of the gaming desk.
For them, a comfortable game experience is the most important, and the normal computer desk usually cannot provide such a service.
If you are a real e-sports enthusiast and still doubt whether the gaming desk is worth buying, I will explain it from several aspects below.
In the appearance design, the gaming desk is cooler, usually equipped with colorful RGB lights.
For example, Bizzoelife's gaming desks are equipped with RGB LED lights, which are available in 7 colorful colors, 3 modes (monochrome, flash and periodic changes) and 3 flash speeds (normal, fast and dynamic).
When using this desk, you can adjust the RGB LED light to your favorite color, you can play games in a cool blue or colorful game environment, and let the Bizzoelife gaming desk create a cool and colorful game atmosphere for you.
In the functional design, the gaming desk is more in line with the humanized design, even if you sit at your desk for a long time, there will be no symptoms of wrist pain or shoulder pain.
If you want to play esports games, what you fear most is that after hitting the keyboard for a long time, there will be a pain in the back, while the gaming desk built in line with ergonomics will make you sit at your desk for a long time, even if you finally attack BOSS, there will be no symptoms of wrist pain or shoulder pain.
In addition, Bizzoelife gaming desk is designed with a smooth carbon fiber surface, which is not only waterproof but also scratch-proof, providing a large, waterproof, scratch-proof desktop for your computer monitors, mouse pads, keyboards and other gaming devices.
Whether the water cup suddenly falls down, or the pet at home is mischievous, it can be safe and sound, which is more worthy of purchase than the normal desk.
Most importantly, it is more secure than a normal desk, and whether you tap the keyboard or pat the desktop hard, it can stand there like a rock without the slightest wobble.
Whether you are excited or depressed, pat it OK, no matter how you ravage it, it provides excellent stability.
This is the most important point for gamers, especially when many gamers like to put the mainframe on the desktop, so the manufacturing material of the gaming desk is very important, not only good load-bearing effect, but also stable enough.
Bizzoelife gaming desk features Z-shaped metal feet and a durable PB board design to ensure that the desk is sturdy and durable and can withstand a weight of 200lbs.
This enhances the stability and durability of the Z-shaped gaming desk to support all your gaming devices.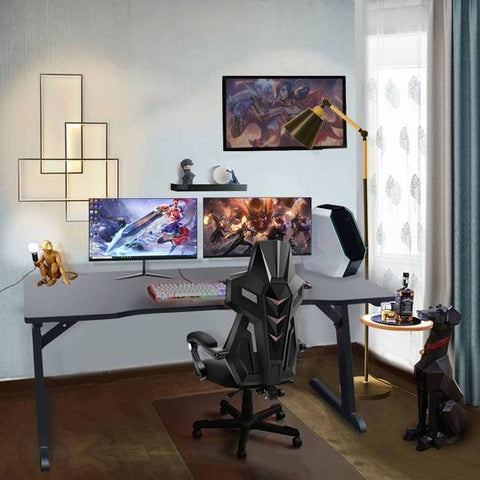 After reading the above, will you still wonder whether the gaming desk is worth it?
When you actually use the gaming desk, its detailed design will immediately dispel your doubt!
Bizzoelife's gaming desk is also specially equipped with headphone holder, so you can hang the headphones on the headphone holder while keeping the whole desktop flat and clean.
Messy cables can all be sent to dedicated cable management holes, all for your most comfortable and interference-free gaming experience.