When we purchase the computer desk, there are always so many choices to confuse us.
The L-shaped computer desk is convenient and fast, and can provide more space for us.
The I-shaped computer desk is easy to assemble and occupy a smaller area.
They all have their own advantages. If you are also hesitating for them, then you can't miss the Bizzoelife rotating L Shaped Desk with Storage.
It can convert 360 °into various shapes and meet your various needs at the same time.
A computer desk that can rotate 360°
With the Bizzoelife rotating desk, you have both an L-shaped table and an I-shaped table, because it can rotate 360 °.
When rotated 0 °, it is a simple desk with storage. When you don't need it, you can put it away like this and use it as a shelf.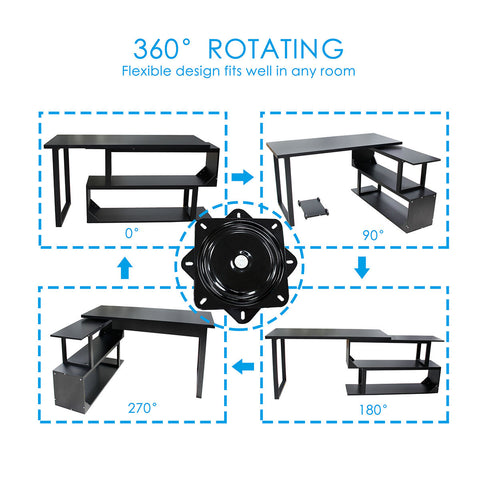 When rotated 90°, it becomes a stylish L-shaped computer desk. Even a small space can store it. You can put it on any corner of your house.
A spacious desktop on one side is enough for two large monitors, while on the other side you are free to put some files or printers and other devices.
When rotated 180°, it becomes a long I-shaped computer desk. If your house is spacious enough, you can use the desk in this way.
You can also think of it as a combination of a simple desk and a shelf. Buying a product is to have the functions of two products at the same time.
When rotated 270°, it becomes an L-shaped table in the opposite direction. You are free to choose whether to rotate 90 °or 270 °according to your personal habits.
Easy to assemble
Seeing that this table has such a flexible rotation function, you may worry about whether it will be difficult to assemble.
The truth is, the assembly process is very easy.
We have received comments like this more than once:
"my 14-year-old son completed the whole assembly process by himself", "the assembly process is very simple and interesting", and "after the assembly was completed, I gained a full sense of achievement. "
We have detailed product instructions and video tutorials on product assembly in the product package, and most people are able to complete the assembly process with the help of them.
If there is anything else you don't understand, please feel free to contact us and we will reply to you within 24 hours.
Designed for home office
With the development of the concept of the times, more and more people begin to work at home.
However, because of the natural and casual home environment, many people don't care about the home office environment and often start using laptops when they sit on the floor.
A poor working environment is not only exhausting, but also distracting, thus reducing work efficiency. All these situations urgently tell us that we need a suitable computer desk to work efficiently from home.
Bizzoelife's best computer desk can help you solve problems and let you work or study in a comfortable place.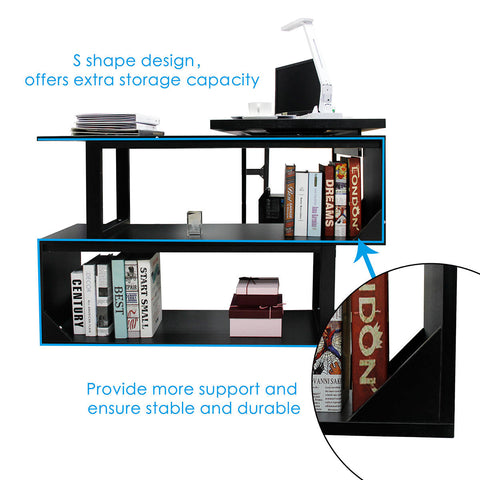 With it, you can turn on office mode at any time and work efficiently without being disturbed by environmental problems.
Capacious storage space
As you can see in the picture, Bizzoelife rotating computer desk has 2-tier open shelves to provide capacious storage space.
It can meet a large number of storage needs. When studying or working, put the necessary materials on the shelf within reach. it is easy to access, and your office environment will become cleaner.
Thoughtful details
What Bizzoelife wants to do is to give you the most comfortable service experience.
We never miss any detail of the product, because any good detail is likely to make a good impression on us.
For example, there is a bonus CPU stand attached in the package to support your mainframe for easier access.
This will make it easier for you to move your computer, and the mainframe will continue to be clean.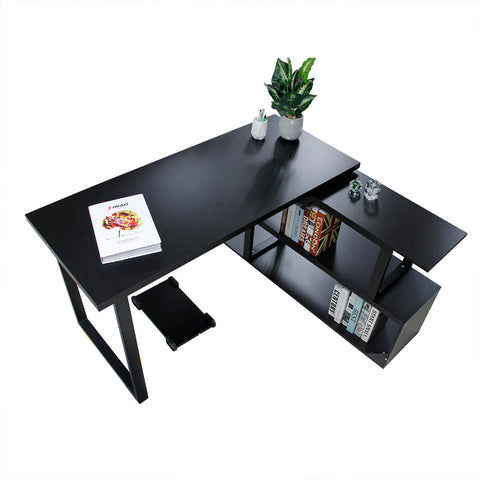 Besides, the surface of the computer desk is made of E1 particle board material, and the overall frame is supported by a heavy metal frame,
which is rugged and suitable for all office equipment, so you don't have to worry about its load-bearing problems.
If you encounter any problems in the process of use, we provide 7-9 days free delivery service, just to give you a more worry-free consumer experience.